Which Colour Bed Should Your Cat Have?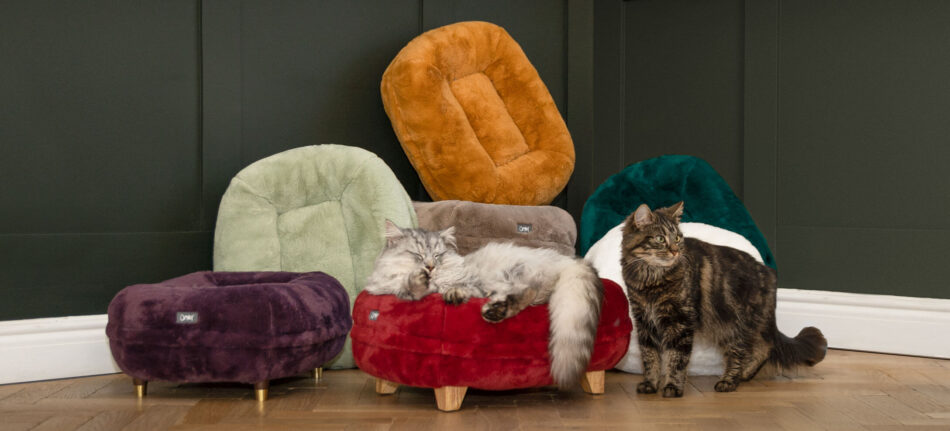 With the new Cosy Collection, there are six new amazing Maya Donut Cat Bed colours to choose from! If you like them all, or are just a bit indecisive, why not let your cat's personality decide? Take the test to see which colour bed your cat should have! 
What time does your cat wake up in the morning?
They do all their sleeping in the daytime

5am

7am

Whenever I wake up

When they hear the noise of food bowls being filled

Never before noon
What does your cat do when allowed outside?
Just sit by the door waiting to be let in again

Chase squirrels and birds

Sleep on a garden chair

Go meet up with their mates

Sit in a tree and groom themselves

God knows, they just run off
You have to take your cat to the vet, how do they react?
They love it

Run and hide somewhere I can't get to them

Hiss and scratch

They make an awful fuss for a while, then happily jumps in the carrier

They always behave really well

We have to get the vet to come to us, it's the only way
What word would you use to describe your cat?
Quirky

Playful

Needy

Lazy

Hungry

A little bit mean
How does your cat react when you come back after a day at work?
Just roll over and continue sleeping

Run towards me

They always sit by the door waiting

They are nowhere to be found

Make sure I notice them, then go and sit by the empty food bowl

Come in to say hi, but go away again pretty quickly
What animal would you cat be friends with?
They are a bit of a loner to be fair

Other cats

Smaller animals

Larger animals

Dogs

They could get on with anyone
What is your cat's favourite treat?
Anything with catnip

They just love normal cat food

Anything really smelly

Expensive, organic cat treats

It's a bit weird, but my cat loves fruit

My cat doesn't care about food
If your cat went to school, what would their favourite subject be?
History

English

PE

Modern languages

Science

Break time
What is your cat's least favourite thing? 
Dogs

Getting wet

Being alone

Loud noises

Being woken up

Having their nails clipped
This entry was posted in Cats
---