Why Chickens Make Great Pets for Families With Children

Chickens really are wonderful pets for the whole family. Not only will they provide you with fresh eggs every day, they are super fun to watch and hang out with and they will teach your children valuable lessons! In comparison to many other pets, chickens are relatively low maintenance, and caring for them doesn't really require much that children from primary school age won't be able to at least take part in. Read on to find out more reasons why chickens are great pets for families with children!
Why Are Chickens Such Great Pets?
Responsibility
Children of all ages will learn about taking responsibility for another living creature. They should of course never be given full responsibility for all the care duties, but even scattering some corn on the ground or refilling the drinker can make children less selfish.
Routines
Pets are also a long term commitment that will teach children to sometimes put their immediate wants and needs aside to go clean the coop or feed the chickens. It also shows children the importance of a structured routine, something many kids really like.
Food
Keeping chickens will teach your children that food doesn't magically appear on supermarket shelves. If they care for their own chickens, they will hopefully realise how important it is for animals to have enough space and adequate care, and they won't take animal products for granted. 
Circle of life
When you have pets it's inevitable that your children will learn about life and death. Whether you're breeding chicks, keeping flocks of chickens for meat or just have a few as pets in the backyard, your children will be taught valuable lessons about the circle of life. 
Hygiene
Having pets who live outside will teach children the importance of good hygiene. They will have to make sure to wash their hands after handling their chickens, and will realise that in order for the animals to stay happy and healthy, their coop and run will need to be cleaned out regularly.
Additional skills
Keeping chickens can be educational in many ways you might not think about straight away. Apart from maths skills from counting eggs and measuring feed and water, children will learn about how different animals have different needs, that egg shells can be used for amazing art projects, and that eggs form the base of thousands of delicious recipes.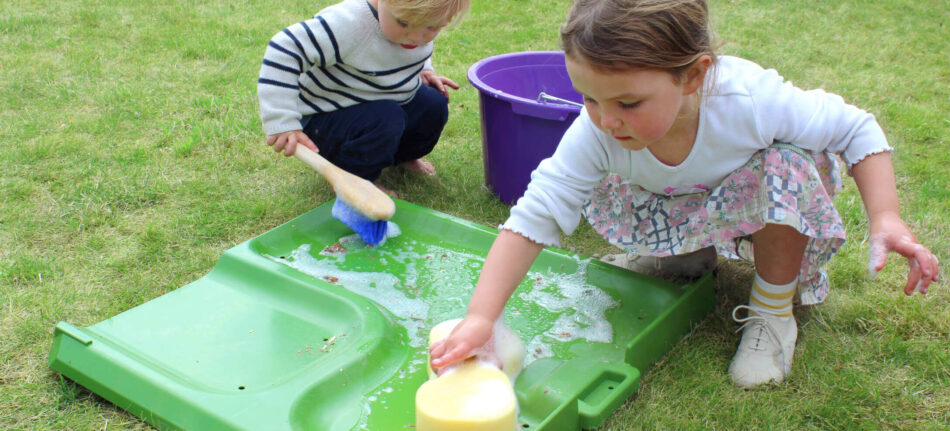 Things to think about
Start with a smaller flock of no more than 5 chickens. That way your children will be able to differentiate them and give them names based on their funny personalities. Too many at once makes the chickens seem like a flock rather than a group of individuals, and you are all less likely to see them as pets. You can always get more at a later date!
It's probably a good idea not to get a cockerel to start with. They are much more confident and pushy than hens, and can be a bit intimidating for younger children. You don't want them to be put off straight away.
Get a coop that makes chicken keeping easy, so that the kids can help. The Eglu Cube is a perfect example. It's super easy to let the chickens out in the morning and close the coop at night (even easier if you have an automatic door of course!) and to collect fresh eggs from the egg port on the side. Younger members of the family can even help with the cleaning of the coop, just empty the dropping tray and wipe down the smooth surfaces of the house approximately once a week, and your coop will look shiny and new every time! 
Even if you're not incubating eggs and rearing chicks yourself, getting young chickens is a good idea if you want your children to be involved. Encourage regular interaction, and try to pick up the chickens regularly to get them used to being handled. This is sometimes made easier by having the chickens in a run that is easy to access, like the Walk in run. When it's uncomplicated to go in and spend time with the chickens, you and your children are more likely to do it regularly!
Choose a friendly and hardy breed that is known to be good with children. Silkies are for example famous for being loving and happy to be held, Orpingtons are calm and affectionate and Cochins easily adapt to any situation they are confronted with. You can read more about different chicken breeds here. 
This entry was posted in Chickens
---