How to get rid of Red Mites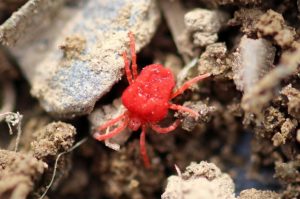 A familiar problem for backyard chicken keepers and commercial enterprises for laying hens, is infestation of the birds' environment with Dermanyssus gallinae, also known as red mites or poultry mites. Compared to other poultry parasites such as fowl ticks, lice and flies, mites are by far the most common, most destructive and difficult to remove. Red mites are nocturnal parasites and hide themselves in all kinds of gaps and cracks during the daytime. This makes the treatment of red mites harder and more complicated.
Red Mite Signs and Diagnosis
Red mites are up to 1mm in size. The title "Red" has been given to this mite as it turns from grey to red after it had a blood feed. Once the infestation becomes significant, your chickens will become anaemic. Their wattles and the combs will start looking pale and their egg production will drop significantly. Red mites also cause skin irritation, feather pecking, weight loss and restlessness in the flock. Because of the mites your chickens will probably be reluctant to go to bed, because that's where the mites are!
When checking your chicken coop for red mites, check the perch's at the end and cracks and crevices. An even easier way to check is to run a white paper towel underneath the perches at night. If there are red mites, at this time they will be on the underside on the perch after feeding on your chickens and you will be able to see red streaks on your paper towel.
Red Mite Prevention
Prevention is always better than cure. But this is not always that simple. Wild birds or new chickens can transmit red mites to your coop.  It's a good idea to check for red mite routinely when you clean your chicken coop and use some preventative treatment to the coop. For example, you can use Diatomaceous earth as part of the weekly clean (DE is a 100% natural powder which dehydrates parasites it comes into contact with). All types of chicken coops can get red mite, however wooden coops tend to suffer from infestations the most.
Unfortunately red mites can survive for up to 10 months in an empty hen house, so leaving a coop empty for a while doesn't usually fix the problem. Choosing your housing carefully can help prevent infestations.  Omlet's Eglu chicken coops are made from plastic which makes it very difficult for red mites to make a home. And in the event that there is a Red mite infestation, they are quick and easy to clean. A quick blast with a pressure washer should do the trick.
Red Mite Treatment
1) Cleaning
If you find lots of red mite in the coop, it's time for a big clean up. The initial clean out will take a couple of hours for wooden coops, with a plastic coop it will take less time. Remove all birds from the house and strip the house down as much as possible. If you have a felt roof you will need to remove this and have your coop re-felted.
2) Mite disinfectant detergent
Mix a mite disinfectant detergent (such as Smite Professional Disinfectant 1 Litre Concentrate or Barrier Red Mite X 500ml Concentrate) with water (using the manufacturer's guidelines). Apply this to the coop ensuring you get it in the cracks and crevices, concentrating where there are perch ends and concentrations of red mite. Leave for 15-20 minutes.
3) High pressure hose
Use a hose (preferably high pressure) to hose down the coop and the parts. Try to get in every nook and cranny as this is where the mites like to live. Leave for 10-15 minutes to dry. After this you will most probably see more mites, which have been disturbed, crawling out. Repeat this process until there are very few mites emerging after each wash.
4) UV
Leave the house to thoroughly dry. It's ideal to do the initial clean on a sunny day as the UV can kill some bacteria and will dry the house quicker. Put the coop back together and add bedding (dispose the old bedding in a plastic bag in a bin as the red mites will happily find somewhere else to live).
5) Red mite powder
Sprinkle the whole coop and your chickens with a red mite powder. Ensure you rub the powder onto the perches so any remaining mites will have to crawl through it to reach your chickens. 
6) Repeat red mite powder treatment
Re-apply the red mite powder every couple of days or when it has rubbed of. Red mite are only active during mild weather, so in Australia the red mite season usually falls between October and May (depending on where in the country you are). During Autumn and winter, the mites become dormant and do not feed. But this doesn't per se mean they are gone.
Sources: www.omlet.co.uk, www.poultryworld.net, www.accidentalsmallholder.net, www.wikivet.net, www.poultrykeeper.com
This entry was posted in Chickens
---