Arrrrhhh There are no Eglu Cubes now what? The Alternatives
As you will have seen on the website we are currently out of stock of the Eglu Cube…. and because they are made in the UK it does take a while to get more over here.  We do have a container bursting full of Cubes arriving mid January, but if you can't wait until then I thought I'd give you some alternatives.  The Eglu Cube houses up to 10 chooks (depending on their size) so the options below will do the same…
Option 1: You NEED Movability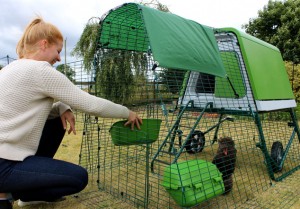 If being able to move the house about is a key thing for you, then your best option is to buy 2 x Eglu Go UP with the wheels.  They won't fit together (unfortunately), but they are so easy to move with just 1 person.  Each house will hold up to 4 chooks (depending on size) and each comes with a 2m run.
At night your girls could decide which one they wanted to sleep in.  It's not ideal, but the other benefits are that:
– You have an option if any of the birds get sick


Option 2: You NEED Space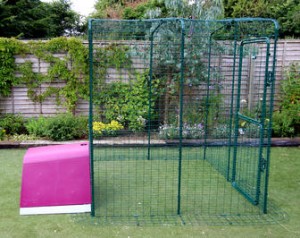 If you don't need to move your chook house around then this really is the perfect alternative to an Eglu Cube.  A Walk in Chicken Run with a house or houses attached to it.
If you get a 2m x 2m x 2m Walk In Run it will give you 4m2 of ground space for the chooks, and this can be more if you attach an Eglu Go UP to the run or get a bigger walk in run – the Eglu Cube has about 3m2 of floor space (with the standard 2m run).
You can attach the Eglu Go chicken house to the Walk In Run easily by buying a connector panel.  One house will hold up to 4 chooks, so you may need more houses – you can attach up to 7 houses to the Walk in Run (if you want to), so this is not a problem.
You can also (if you don't want/need to walk into the run) get the 2m x 2m x 1m high run, as shown here with an Eglu Go house attached.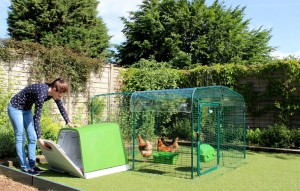 Another option is attaching an Eglu Go Up with the run (but no wheels) onto the Walk In Chicken Run with a connector kit.  This gives you lots of ground space for the chickens, plus to get the extra housing you could either attach another Eglu Go Up or an Eglu go house.
Finally with the Walk In Chicken Run you don't need to attach the house to the outside you could get a bigger run, say 3m x 3m x 2m high and put the house/s on the inside – it does make egg collecting a bit more tricky, but depending on your garden it may work better for you.
Prices:
1) Walk In Run 2m x 2m x 1m, 2 houses & 2 connectors $1,255 plus delivery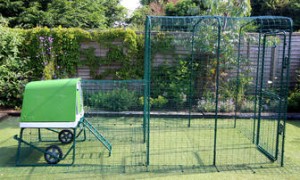 3) Walk in Run 2m x 2m x 2m, 1 Eglu Go Up, 1 house & 2 connectors $1,755 plus delivery

If all this has confused you no end, then please do give me a call 02 99607531 and we can chat about the best option for you…..
This entry was posted in Chickens
---