Eglu Go UP with 3m run gets Support!
The Eglu Go UP usually comes with a 2m run, however you can buy it with an extra 1m run extension, if you do this, then the run gets a bit wobbly when you put it together…..  Which is why you get 2 green poles to attach to the outside of the run to make it more stable.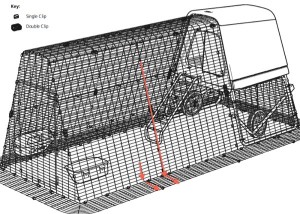 Unfortunately at the moment the instructions you get with the 1m run extension doesn't explain this, so people get left with 2 poles and wonder what they are for 🙁
In the diagram here you can see where to put the 2 poles – one each side of the run where the long red line is.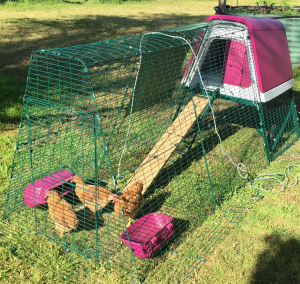 Here you can see an Eglu Go UP that a customer in Sydney has, the green bar is just to the left of the rope (the rope is attached to the plank of wood which is in there to help their hens get up the ramp, as they are still a bit little to walk up the ladder).
The run is MUCH more sturdy if you add the poles – you just clip them onto the run with the run clips.
Still Easy to Move

This entry was posted in Chickens
---